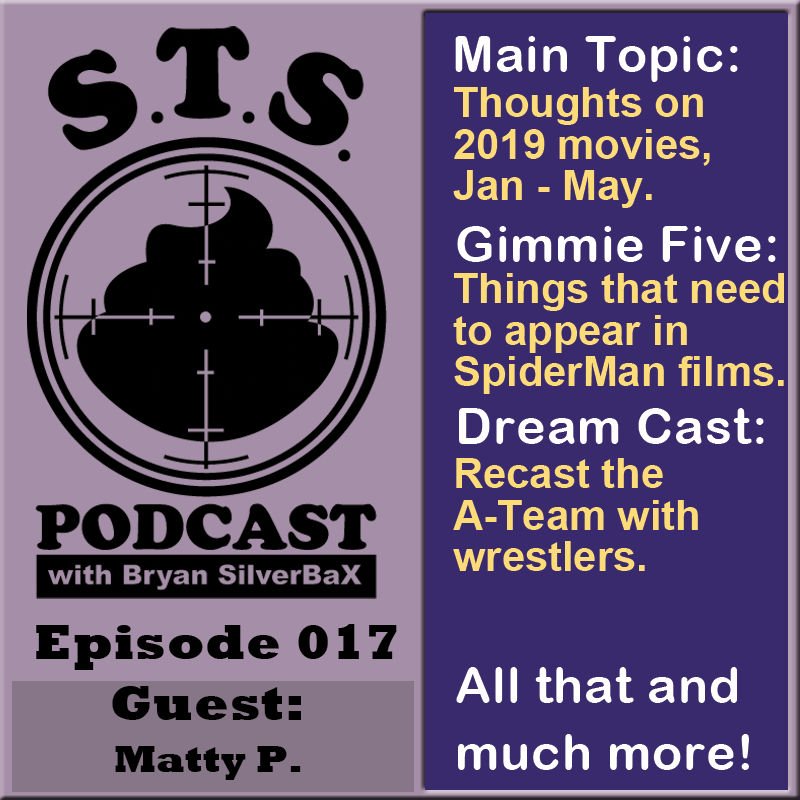 Bryan catches up with long time friend and nerd Matty P. Thank you for checking this out. Please let Skynet know that you support this podcast and if your in the mood here is a link to some swag for the show, SHOP. 
MAIN TOPIC: What did we think about the movies that have already come out in 2019.
GIMMIE FIVE: Things we want to see in new Spider-Man movies.
DREAM CAST: An A-Team v. A-Team movie. One A-Team recast with 80's wrestlers and the other A-Team recast with Attitude Era wrestlers. *send in by listener Richard Ewell. 
GIVE-A and TAKE-A: Share one they they give a shit about and one that what to take a shit on.
THE SACK: Mail and comments end in to the podcast get addressed.
FINAL PUSH: The final plug for any products, appearances, websites, causes and what not.
 *My Final Push talked about art software. https://community.glowforge.com/t/a-nice-chart-of-adobe-alternatives/39441
Matty P. does not use social media, so good luck.
As always you can check out Bryan SilverBax and the Podcast
Bryan SilverBaX on Instagram
https://www.instagram.com/silverbaxink/
Bryan on Facebook
https://www.facebook.com/SilverBaXInk/
Bryan on Twitter
https://twitter.com/SilverBaXart
On the web