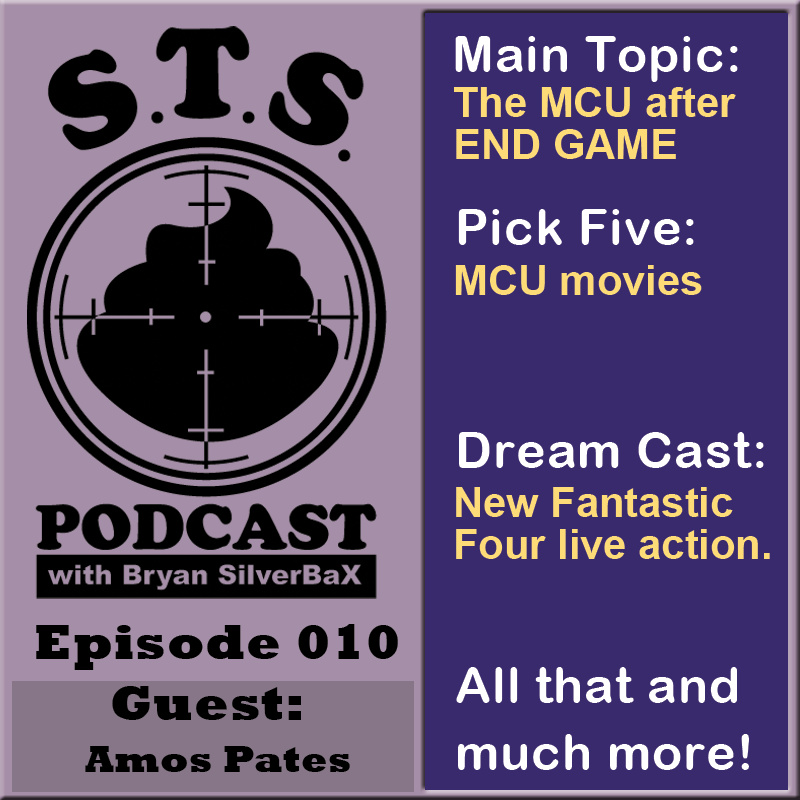 Thank you for checking this out. Please let Skynet know that you support this podcast and if your in the mood here is a link to some swag for the show, SHOP. Bryan sits down with podcaster and comic geek Amos Pates.
MAIN TOPIC: Amos and Bryan talk about what they think the future holds for the future of the Marvel movies after Avengers: End Game. Where will the universe focus, what new heroes, who will be in charge?
PICK FIVE: The two pick five MCU movies that they like that are not Avengers, Age of Ulton, or Infinity War.
DREAM CAST: Disney owns Marvel and now owns Fox Studios so let's recast a new Fantastic Four movie that will not suck.
GIVE-A and TAKE-A: Share one they they give a shit about and one that what to take a shit on.
THE SACK: Mail and comments end in to the podcast get addressed.
FINAL PUSH: The final plug for any products, appearances, websites, causes and what not.
Follow Amos
Facebook https://www.facebook.com/justbeingamos/
 Blog: http://www.justbeingamos.com/blog/
Podcast: https://soundcloud.com/justbeingpodcast
As always you can check out Bryan SilverBax and the Podcast
Bryan SilverBaX on Instagram
https://www.instagram.com/silverbaxink/
Bryan on Facebook
https://www.facebook.com/SilverBaXInk/
Bryan on Twitter
https://twitter.com/SilverBaXart
On the web